Temporary Anchorage Device (TAD) Mechan
Traditional metal braces are the most common type of braces and are more comfortable today than ever before. Made of high-grade stainless steel, metal braces straighten your teeth using metal brackets and archwires.

With metal braces, you have the option of adding colored elastics (rubber bands) for a more unique and colorful smile.


Metal Braces Colors
That You Choose! You're colorful. You've got personality. You're one-of-a-kind.

With colored braces bands, the elastic ties that bind your wires to your braces, you can show off your flair.

Every time you go in for an adjustment, you can change the color of your braces bands. There are many options: all one color, one color for the top and a different color for the bottom, or mix and match. Colored braces are fun, and they're also an opportunity for you to take some control over having braces.

Celebrate a holiday, a special occasion, or show your school spirit. From soft pastels to bright and bold, colored braces bands are fun and will make you smile. Braces colors may vary based on availability, but some color suggestions are below.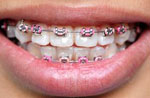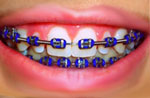 How long will I need to wear Metal Braces?
The length of time that you will need to wear braces depends on several factors and can last anywhere from a year to two or more. Certain goals should be considered when determining the amount of time you will wear your braces, including the extent of the dental condition being treated, how the orthodontist wants to treat you, and the ultimate outcome he is hoping to achieve with the braces. Something else to consider is your age.
The younger you are, THE FASTER YOU WILL SEE RESULT!
Though a variety of other different materials can be used as alternatives to metal braces - clear/ invisible braces